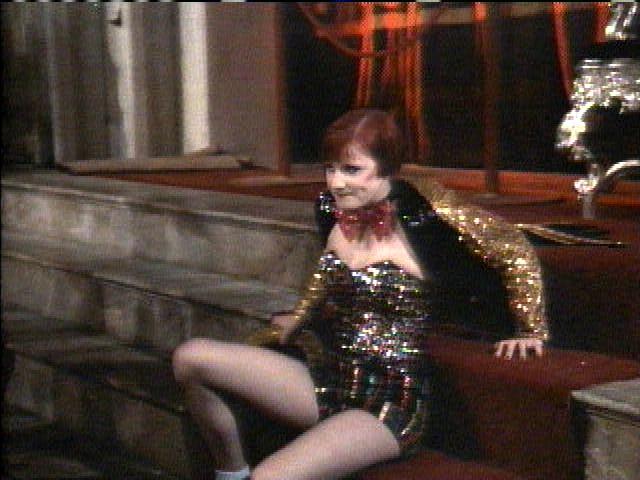 NAME: Witchluv.
REAL NAME: Witchluv
AGE: 20004
HABITAT: My study
JOB: what's that?
WHAT IS YOUR AMBITION IN LIFE: To fly away with Tim Curry and live happily ever after
PARENTS: Alive
FAVOURITE COLOUR: Zog
RATE YOUR SANITY FROM 1-10: -88888888
ARE YOU INSANE: Yes
WHAT IS YOUR RELIGION: Me
FAVOURITE BOOK: Um...Life, the universe and everything
KEY TO THE UNIVERSE: 42
FAVOURITE TV SHOWS: The young ones (I love the theme tune...the young ones, darling we're the young ones, the young ones, shouldn't be afraid...) Buffy The Vampire Slayer (Spike and Oz are the coolest. Angel and Buffy are whiney bitches) Ally McBeal (do not mock, it makes me feel better about myself) I love the 1970's (sadly soon to be over) Never Mind the Buzzcocks (Marc Lamar is sooo funny. "Are you the 'hard' one from another level?" LOL)
FAVOURITE COMEDIEN: Jo Brand of course. She is extremely funny.
WORST TV SHOWS: I cannot stand Corrination Street, Brookside, and Eurotrash.
FVOURITE FILMS: RHPS (d'uh) Sleepy Hollow (It's not horror, it is so funny!) Idle Hands (again, very funny. And Seth Green's in it)
FAVOURITE ACTOR and ACTRESS: Seth Green. (not just because he's gorgeous, i think he's a very tallented actor) and Alyson Hanigen (and there was this one time, at band camp...)
REALLY REALLY HATES: Celery, the real world, and evil people.
REALLY REALLY LOVES: Rocky Horror, the bitch board, monkey pants
FAVOURITE ALBUMS: Absalute O'Brien...i think it's cool. And the Buffy Album, that's cool too.
WHAT I REALLY WANT: A rocky horror cast near Kent! Goddess, RHPS orriginated from England, therefor we should have more casts than America...but no, we have but one in the whole of ENGLAND!!!!!
PLEASE NOTE: I AM NOT A SADIST! To be a sadist you need to believe in Christianity...God the devil and stuff. I DO NOT BELIEVE IN ANY OF THAT! So to all you annoying preacher types that keep ranting in people guest books/the bitch board...GET A FUCKING LIFE THAT DOESN'T INVOLVE ANNOYING THE HELL OUT OF ROCKY HORROR FANS!!